This trip is sold out! Please email Meg at whalenmj55@gmail.com to join the waiting list!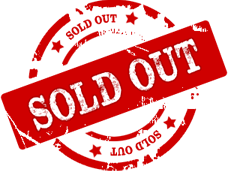 April 23-29, 2023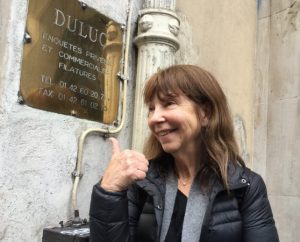 Want to join me for APRIL IN PARIS?
Greetings Intrepid, Independent Francophiles,
You're invited to join me, other mystery lovers and Francophiles for an exclusive week in Paris.
You can join me exploring memorable scenes associated with the cases my private investigator has solved in my Aimée Leduc book series. Visit Paris WW2 locations that form the background of my WW2 thriller, Three Hours in Paris—and did I mention the wine?
This APRIL IN PARIS adventure is beginning to take shape, and if you are seriously interested or have questions, please contact Meg—our trip organizer—ASAP at whalenmj55@gmail.com, as we need to confirm our activities and move forward.
The dates: April 23-29, 2023.
The cost: $2,000.
This will include, barring unforeseen circumstances:
Navigo Pass for the week
2 Walking Tours, one Aimee Leduc-related, one Kate Rees WW2-related
An afternoon writer's workshop with Cara & possibly another author on the Left Bank
A food event, market-to-table, with a local chef
Nightly apéros @ 6 PM in the Relais Monceau hotel to revisit the day – optional
Not included:
Airfare
Lodgings
Meals (breakfast included @ the Relais)
Hotel rooms are currently reserved at the Relais Monceau, our favorite hotel, for 176 Euros/single occupancy, 192 Euros/double occupancy. Full breakfast & city tax are included.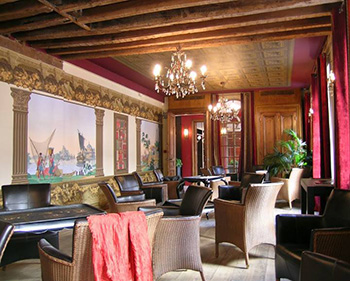 If you wish to book, please use APRIL IN PARIS/CARA BLACK TOUR and reserve a room directly with the hotel. Please check with them regarding their cancellation policy. They are holding twelve rooms but will need to know soon if you wish to claim this rate. Please contact Murielle Boyer (m.boyer@designhotelst.com) to book. PLEASE NOTE NEW, LESSER RATE.
Our boutique hotel is located in the Paris neighborhood described in my book, Murder in Clichy, in the 8th arrondissement. We will meet in the hotel salon each evening to sample French wines and discuss the day's events, with a bit of book talk thrown into the mix.
You are also welcome to choose your own accommodation and meet up with us for nightly Apéros and discussion.
Itinerary
On Sunday, April 23, we will meet initially in the salon at the Relais at 6 PM for orientation and distribution of goodie bags. Detailed daily schedules of our walks, visits to a writing atelier, farm to table experience and activities will be given.
Please note that this itinerary may change, depending on changes in time or availability of some of our destinations. Or change a venue due to unforeseen circumstances.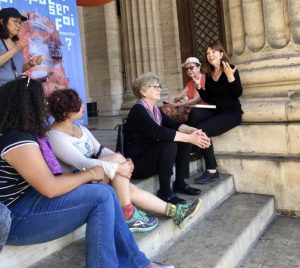 But rain or shine, we'll hit the cobblestones everyday.
This adventure will require a modicum of self-reliance in terms of getting around, but it should nonetheless be a grand adventure. As most of you will have visited Paris before, get ready for a different visit.
You need to be prepared to walk everyday and we'll be using the Metro and buses. You will have plenty of time to explore on your own.
Space will be limited, please submit a non-refundable deposit of $500 by 11/1/22.
The remainder of the balance ($1500) is due by 2/14/23. Meg would prefer to have checks but can also do Apple Pay. Any questions, please contact Meg: whalenmj55@gmail.com
We'd love to have you join us for APRIL IN PARIS,
Cara and Meg