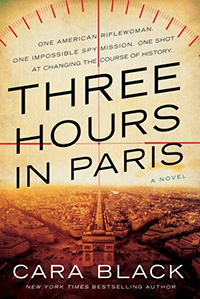 "In Three Hours in Paris, Cara Black brings her masterful knowledge of the city and its people to the Second World War and an imagined failed attempt on the life of Adolf Hitler by a female, American sniper that leaves her fate and that of the war effort very much hanging in the balance. The result is a taut, smart, heart-in-throat page turner worthy of the most discerning reader of John le Carre, Daniel Silva or Alan Furst—brava!"
—Pam Jenoff, New York Times bestselling author of The Lost Girls of Paris
"I couldn't stop reading Cara Black's newest! A young American markswoman named Kate Reese is sent to Paris to assassinate Hitler—what could possibly go wrong? Everything, as it turns out, prompting an intense cat-and-mouse chase through the blacked-out City of Light. Nothing is as it seems, certainly not for Kate, as she tries to escape and made it back to Britain with plans of the secret of the Nazi invasion. Black keeps you guessing—and biting your nails—up to the very last page."
—Susan Elia MacNeal, author of the New York Times-bestselling Maggie Hope series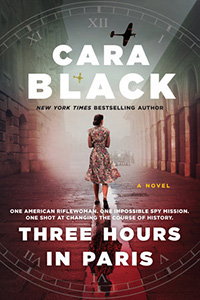 "Black constructs a surprise-filled plot, fueled by breathless pacing, Alan Furst-like atmosphere, and a textured look at Resistance fighters in Paris… Black stretches her wings here, soaring to new heights."
—Booklist (starred review)
The audiobook is the winner of an AudioFile Earphones Award! "Narrator Elisabeth Rodgers rises to the challenge of performing with American, English, Scottish, French, and German accents… An intense listen from the first scene to the last."
Buy it: Bookshop.org | PoisonedPen.com | Amazon.com | BN.com | Apple Books | Books-A-Million | Kobo.com | Politics & Prose | Book Passage | Soho Press | Audible.com
In June of 1940, when Paris fell to the Nazis, Hitler spent a total of three hours in the City of Light—abruptly leaving, never to return. To this day, no one knows why.
The New York Times bestselling author of the Aimée Leduc investigations reimagines history in her masterful, pulse-pounding spy thriller, Three Hours in Paris.
Kate Rees, a young American markswoman, has been recruited by British intelligence to drop into Paris with a dangerous assignment: assassinate the Führer. Wrecked by grief after a Luftwaffe bombing killed her husband and infant daughter, she is armed with a rifle, a vendetta, and a fierce resolve. But other than rushed and rudimentary instruction, she has no formal spy training. Thrust into the red-hot center of the war, a country girl from rural Oregon finds herself holding the fate of the world in her hands. When Kate misses her mark and the plan unravels, Kate is on the run for her life—all the time wrestling with the suspicion that the whole operation was a set-up.
Cara Black, doyenne of the Parisian crime novel, is at her best as she brings Occupation-era France to vivid life in this gripping story about one young woman with the temerity—and drive—to take on Hitler himself.