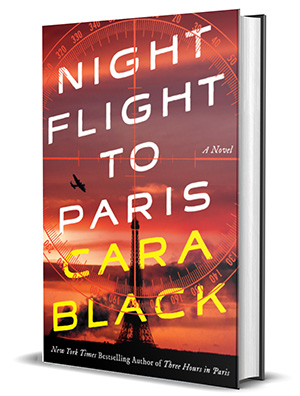 It is once again up to American markswoman Kate Rees to take the shot that just might win—or lose—World War II, in the followup to national bestseller Three Hours in Paris.
"Black vividly evokes the sights, sounds, and smells of Paris under Nazi occupation. The gritty, determined Kate is a heroine for the ages."
—Publishers Weekly
Three missions. Two cities. One shot to win the war.
October 1942: it's been two years since Kate Rees was sent to Paris on a British Secret Service mission to assassinate Hitler. Since then, she has left spycraft behind to take a training job as a sharpshooting instructor in the Scottish Highlands. But her quiet life is violently disrupted when Colonel Stepney, her former handler, drags her back into the fray for a dangerous three-pronged mission in Paris.
Each task is more dangerous than the next: Deliver a package of penicillin to sick children. Assassinate a high-ranking German operative whose knowledge of secret invasion plans could turn the tide of the war against the Allies. Rescue a British agent who once saved Kate's life, and get out.
Kate will encounter sheiks and spies, poets and partisans, as she races to keep up with the constantly shifting nature of her assignment, showing every ounce of her Oregonian grit in the process.
Read more about Night Flight to Paris
Buy it at Bookshop.org | IndieBound.com | Amazon.com | BN.com | Apple Books | Kobo.com | Book Passage | Bookshop West Portal | Books-A-Million
---
Now in Paperback: Murder at the Porte de Versailles
One of CrimeReads' Best Traditional Mysteries of 2022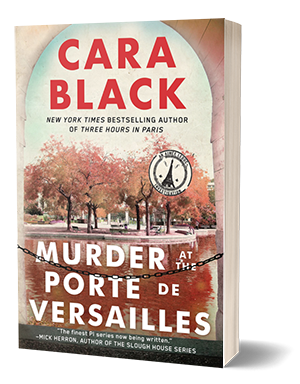 November, 2001: in the wake of 9/11, Paris is living in a state of fear, with constant bomb alerts and heightened ethnic tension. For Aimée Leduc, November is bittersweet: the anniversary of her father's death and her daughter's third birthday fall on the same day. A gathering for family and friends is disrupted when a bomb goes off at the police laboratory—and Boris Viard, the partner of Aimée's friend Michou, is found unconscious at the scene of the crime with traces of explosive under his fingernails.
Aimée doesn't believe Boris set the bomb. In an effort to prove him not guilty, she battles the police and his own lab colleagues, collecting conflicting eyewitness reports. When a member of the French secret service drafts Aimée to help investigate possible links to an Iranian Revolutionary guard and fugitive radicals who bombed Interpol in the 1980s, Aimée uncovers ties to a cold case of her father's. As Aimée scours the streets of Téhéran-sur-Seine trying to learn the truth, she has to ask herself if she should succumb to pressure from Chloe's biological father and move them out to his farm in Brittany.
Buy it: Bookshop.org | IndieBound.com | Amazon.com | BN.com | Apple Books | Kobo.com | Book Passage | Books-A-Million | Audible
Signed copies are available from Bookshop West Portal
"Riveting… Rich with detail about life in Paris… Black shows no signs of losing steam."
—Publishers Weekly
"Black delivers again with a combination of political intrigue and tight detective thrills."
—Kirkus
"A fast-paced, atmospheric mystery."
—Booklist
---
Cara's story "The Prideaux Monograph" appears in a new Sherlock Holmes anthology!

Sherlock Holmes: A Detective's Life, edited by Martin Rosenstock, was published on Sept. 20, 2022.
The famous detective returns in a thrilling anthology of 12 Sherlock short stories spanning Holmes's entire career, penned by Peter Swanson, Cara Black, James Lovegrove and more.
A brand-new collection of twelve Sherlock Holmes short stories which spans Holmes's entire career, from the early days in Baker Street to retirement on the South Downs.