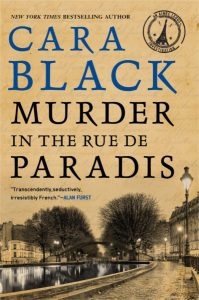 "Charming…. Aimée is one of those blithe spirits who can walk you through the city's historical streets and byways with their eyes closed."
—Marilyn Stasio, The New York Times Book Review
"One of the best writers in the field today."
—Publishers Weekly (starred review)
Buy it: IndieBound.com | PoisonedPen.com | Amazon.com | BN.com | Powells.com | Politics & Prose | Book Passage | Soho Press
It's 1995, a time of turmoil around the world and especially in Paris. Aimée is thrilled when her one-time lover, Yves, an investigative journalist, returns from his assignment in Egypt and proposes marriage. But after a single night of bliss, his body is discovered in a Paris doorway. His throat has been slit, with a distinctive curling flourish at one end of the incision. The police record the incident as a robbery gone wrong, but Aimée is convinced he was the victim of a political hit and is determined to avenge him. The trail leads to a sleeper jihadist and embroils her in Turkish and Kurdish politics, as well as the dangerous world of journalists who expose corruption.
Excerpt:
Monday Evening
Pigeons scattered and fluttered under the rue de Rivoli's nineteenth century arcade as Aimée Leduc shut the taxi door. She fanned herself in the dense humid heat that clung blanket-like over the street which was deserted except for a bedraggled group of Japanese tourists. Across from her, the street lamp's glow was reflected as gold from the tall windows of the Louvre's Cour Carrée.
"Au revoir, Jean-Paul," Aimée said, eager to leave her blind date.
"You sure you won't come for an aperitif?" Jean-Paul asked from the taxi's back seat. A fortyish ministry fonctionnaire with a red tie, blue shirt, and thinning hair, Jean-Paul had discussed his stamp collection over espresso.
"Desolée, too much work," she said.
He waved away the francs she held out to him through the open taxi window and grasped her hand. "Then the theater tomorrow," he said, "I'll call you when I get home."
Aimée hurried past the corner café on rue du Louvre into the deepening twilight shadows mottling her office building. As she mounted the staircase to Leduc Detective's third-floor office she vowed, no blind dates. Never again. No matter how desperate she felt.