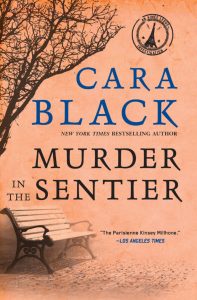 "A tightly spun web worthy of a classic spy thriller…. Leduc's City of Light is a stylish, dangerous place."
—The Washington Post
"No contemporary writer of noir mysteries evokes the spirit of Paris more than Cara Black in her atmospheric series starring P.I. Aimée Leduc…. The fearless, risk-taking Aimée is constantly running, hiding, fighting and risking her life-all while dressed in vintage Chanel and Dior and Louboutin heels."
—USA Today
Buy it: IndieBound.com | PoisonedPen.com | Amazon.com | BN.com | Powells.com | Politics & Prose | Book Passage | Soho Press
Once filled with fashionable mansions, the historic Sentier district of Paris has nowadays fallen on hard times, housing the rag trade alongside sleazy nightclubs. Aimée Leduc finds herself drawn to the area when a woman, newly released from prison, tells her she knew Aimée's long-lost mother. Aimée is shocked to hear that her mother was a member of the notorious 1970s Red Terrorist gang, but before she can discover more, her contact is murdered. Desperate to find her mother, Aimée becomes embroiled with resurgent terrorists, no longer motivated by political ideals but ruthlessly seeking hidden loot—which also seems to have disappeared without a trace.
Excerpt
Saturday Afternoon
Aimée Leduc open the tall windows of her apartment overlooking the Seine, which bordered the tree-lined quai. She inhaled the scent of flowering lime. Despite the humidity she was glad to be home.
She knew it was time to let the past go. The hard part was doing it.
She sank into the Louis XV sofa, ruffled her short, spiky hair, and reached for her laptop. Time to concentrate on Leduc Detective's computer security contracts. Rent loomed. So did other bills.
Her phone rang. "Allô?" she answered irritably.
"Aimée Leduc?" a woman's voice asked.
"Who is it?"
A pause.
"Daughter of Jean-Claude and Sydney Leduc?"
Aimée lost her grip on the phone. No one had referred to her that way in years. She recovered and put the phone to her ear again.
"You were looking for information about your father?" the woman's heavily German-accented voice asked.
Had word of her inquiries reached the right person… at last?
"You knew him?"
A long pause. Hope fluttered in Aimée's chest. In the silence, she heard the whine of a passing motor scooter from the quai.
"Nein, I knew your mother."
Her mother? "Sydney Leduc?"
"Her name was different," the voice went on. "But she talked about you."
The last time Aimée had seen her mother, she'd been wearing an old silk kimono, standing at the stove and heating milk. Her long hair, knotted and held in place by a worn pencil, escaped down her neck. Rain splattered against their courtyard windows, steamy from the heat. The Mozart piano concerto theme from the film Elvira Madigan played on the kitchen radio. "Don't forget your raincoat," her mother had said, then "Crap," under her breath, as the milk foamed and overflowed. Those were the last words eight-year-old Aimée remembered her speaking.
Her mother left the apartment that day, while Aimée was at school, and never returned.
"Do you know where my mother is?"
"Maybe we should meet and talk," the voice said.
"Yes, certainly," she said.
Then doubt hit her. Could this woman be an Internet crawler, one who searched the personals and got innocent people's hopes up? Someone with a sick idea of fun?
"Excuse my caution," Aimée said. "But first I need to know…"
"That I'm for real?" the voice interrupted her. "I spent time with your mother. You have a fish-shaped birthmark on your left thigh, do you not?"
Aimée's hand instinctively went to her thigh. It was true.
"When can we meet?" Aimée asked.
"May I come over?"
Aimée paused, wary. "We could meet at a café…"
The voice interrupted again. "I'm leaving Paris tonight. You live at 7, Quai d'Anjou on L'Ile Saint Louis, yes? I'll be there soon."
"First, tell me how you knew my mother." A car door slammed in the background.
"We were cell mates."