Shopping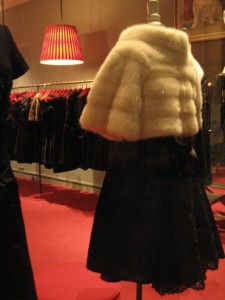 For vintage haute couture heaven and that little black dress:
Didier Ludot
20-24 Galerie Montpensier
in the Palais Royal
Shoe mecca – the street where Georges Sand was born is filled with shoe shops.
Rue Meslay (Metro: République) at the edge of the Marais
High heel problems? Talons Academy: Their mission is to help you feel confident and elegant in high heels.
Marché aux Puces de la Porte de Vanves: The Paris flea market where Aimée shops.
A no brainer for those great bags everyone has (unless of course you can afford to shop at Agnés b.): the little luggage shops in the Metro at Auber or under the Opera or – you know those tiny shops that always have everything on sale and you get great prices for little leather backpacks or pleather type shoulder bags.
BHV for bubble wrap… one never knows when it's needed.
Monoprix for socks
Dining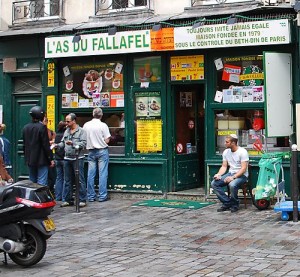 The best falafel outside Tel Aviv, join the line and order from the outside window:
L'As Du Fallafel
34 rue des Rosiers (Métro: St. Paul) in the Marais
Closed Saturday.
Le Baron Rouge: an old fashioned wine bar by the Aligre market… fill your bottle from the casks or have oysters in season… jammed after the market.
1 rue Théophile-Roussel
Cafe de l'Industrie
16 rue St-Sabin… check out the rhino head above the bar and be prepared for good food.
Resto des 4 Frères: locals swarm to crowded and cheap couscous.
127 Bd de Menilmontant in Belleville
or try Chez Omar
47 rue de Bretagne in the Marais
Couscous and intimate atmosphere in an old bistro with smoked mirrors, branché crowd (Jospin ate here).
Steam and Scrub
The real deal in a Mosque…
Hammam de la Mosque
39 rue Geoffrey Saint-Hilaire
Turkish women will scrub layers of skin off your back… recover with mint tea and honey cakes on a marble slab or by the fountain!
Activities/Places of Interest
rollerblading 'le Roller'
Every Friday night…meet at Place d'Italie 9:45 and join young Parisians
Dancing: Le Balajo in the Bastille, on cobbled rue de Lappe: an original bal musette where Edith Piaf sang now with disco, funk and tango afternoons.
Batofar…dancing on a barge moored in the Seine in the 13th…quai de la Gare.
Try Cava Cava off rue Oberkampf in Belleville for Cubano and Brasilien.
La Jungle… the Senegalese club in Murder in the Sentier is based on this place…wonderful Griot music, the rum punch packs a wallop.
Paris Historique
44-46 rue François Miron in the Marais, housed in a medieval hotel particulier.
This foundation sponsors historic walks and preserves old Paris…visit. Better yet, join them.
Hotel Lutétia on bd. Raspail…the old German Occupation stomping grounds has spiffed up to several stars in the Michelin – out of my budget for a drink… look for the plaque mentioning victims on the side of the building.
Quai de la Mégisserie for the bird market
Go to a night concert at Saint Chapelle… get lost in the corridors of the Court Tribunal on the way out!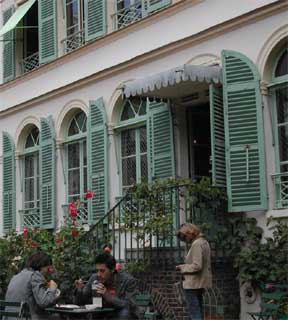 Musée de la Vie Romantique
16 Rue Chaptal, 9th arrondissement.
Open daily except Monday, 10 AM-5:40 PM. Metro: Blanche.
Musée Carnavalet – The museum dedicated to Paris.
23 rue de Sévigné
Open Tuesday to Sunday, 10 AM-6 PM. Metro: Saint-Paul or Chemin Vert.
Paris Walks: Historical and chock full of tidbits. Walking tours founded by lovely Oriel and Peter Caine.
Ride a bike in Paris – the first half hour is free!
The official Paris Mairie site – a go to for markets, expositions, museums, toutes!
Web sites
www.radioparis.com (Listen to the radio stations in Paris.)
www.paris-live.com ( If you time it right, you may get to see the real time sunset from Eiffel Tower.)
Getting around Paris by bus and Metro: check out RATP
You can download the RATP app, too.
Invisible Paris: Adam's wonderful blog of unusual and forgotten Paris.
Photos from the Killer Trip to Paris
Cara took a group of fans around Paris in October 2013, letting them walk in the footsteps of Aimée Leduc!