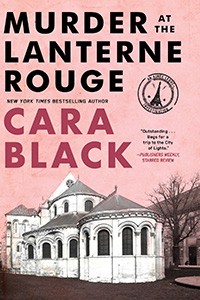 "Outstanding…. Readers will relish realistic villains and an evocative atmosphere that begs for a trip to the City of Lights."
—Publishers Weekly (starred review)
"The pace accelerates as fast as Aimee's Vespa. The details of the series, Aimee's love of vintage couture, her love life, and the specter of her mother's disappearance, all make welcome appearances here. Murder at the Lanterne Rouge is wonderfully plotted, and Cara Black ties together the past and present with élan."
—New York Journal of Books
Buy it: Bookshop.org | PoisonedPen.com | Amazon.com | BN.com | Powells.com | Politics & Prose | Book Passage | Soho Press | Audible
Aimée Leduc is happy her long-time business partner René has found a girlfriend. Really, she is. It's not her fault if she can't suppress her doubts about the relationship; René is moving way too fast, and Aimée's instincts tell her Meizi, this supposed love of René's life, isn't trustworthy. And her misgivings may not be far off the mark: Meizi disappears during a Chinatown dinner to take a phone call and never comes back to the restaurant. Minutes later, the body of a young man, a science prodigy and volunteer at the nearby Musée, is found shrink-wrapped in an alleyway—with Meizi's photo in his wallet. A missing young woman, an illegal immigrant raid in progress, botched affairs of the heart, dirty policemen, the French secret service, cutting-edge science secrets and a murderer on the loose—what has she gotten herself into? And can she get herself—and her friends—back out of it all alive?
Excerpt
Friday Evening
Too small for a bomb, Aimée Leduc thought, nudging with her high-heeled toe at the tiny red box on the cold landing outside Leduc Detective's office. No card. Curious, she picked up the red gift-wrapped box, sniffed. Nothing floral. A secret admirer?
The timed hallway light clicked off, plunging the landing into darkness. She shivered, closed the frosted glass door behind her, and hit the light switch. The chandelier's crystal drops caught the light and reflected in the old patinated mirror over the fireplace.
For once the high-ceilinged nineteenth-century office was warm, too warm. The new boiler had gone into overdrive. Her nose ran at the switch from the chill January evening to a toasty, warm office. She set down her shopping bags—January was the season of soldes, the big sales. She'd blown her budget.
Et alors, yogurt and carrots at her desk for the next week.
She slung her coat over the chair and noticed a chip on her rouge–noir-lacquered pinkie. Zut. She'd have to spring for a manicure.
The office phone trilled, startling her.
"Tell me you found Meizi's birthday present, Aimée," came the breathless voice of René, her business partner at Leduc Detective. "The damned jeweler screwed up the delivery."
"Small red box? You mean it's not for me?" she joked. She shook the box and heard a rattle. Maybe those jade earrings she'd seen him looking at. "You're serious about Meizi? I mean, that kind of serious?"
"One day you'll meet your soul mate, too, Aimée."
Soul mate? He'd known Meizi what, two months? But Aimée bit her tongue. So unlike René to rush into something. A surge of protectiveness hit her. She ought to check this girl out, see what she could learn from a quick computer background search. Could be a little ticking bomb, all right.
"Save my life, eh?" René said. "Bring it to the resto, Chez Chun."
"But I'm in the middle of a security proposal, René," she answered, hoping he didn't hear the little lie in her voice. She surveyed their bank of computers, which were running security checks, updating client systems she'd programmed before she left. The boring bread and butter of their computer security firm.
"Take a taxi, Aimée," he said, his voice pleading. "Please."
Meizi must have something his previous girlfriends from the dojo didn't. Better to check her out in person. Aimée put the box in one coat pocket and dug through the other for her cell phone.
"A taxi, with this traffic? Métro's faster, René."
She grabbed her leopard-print coat and locked the office door.
Twenty minutes later she ran up the Métro steps, perspiring and dodging commuters. Frustrated, she found herself at the exit farthest from where she wanted to be, by the Romanesque church that was now the Musée des Arts et Métiers. Harmonic Gregorian chanting wafted in the cold air and drifted into the enveloping night. Petals of snow lodged like nests of white feathers in the bare-branched trees. What a night, the temperature falling, a storm threatening in the clouded sky. The frigid air sliced her lungs, shot up the mini under her coat.
Great. She hadn't thought her wardrobe through, as usual. René had better appreciate this. Listen to sense and slow things down.
She ran across the boulevard into the medieval quartier, still an ungentrified slice of crumbling hôtel particuliers, narrow cobbled streets lined by Chinese wholesale luggage and jewelry shops. Red paper lanterns hanging from storefronts shuddered in the wind. From a half-open door she heard the pebble-like shuffling of mah-jongg tiles. This multi-block warren comprised the oldest and smallest of the four Chinatowns in Paris. Few knew it existed.
She reached Chez Chun, the oldest or second-oldest building in Paris, depending on whom you talked to, sagging and timbered beside a darkened hair salon.
Inside Chez Chun a blast of garlic, chilis, and cloying Chinese pop music greeted her. The resto, an L-shaped affair, held ten or so filled tables. Roast ducks dangled behind the takeout counter. Not exactly an intimate dining spot.
René cornered her at the door. "Took you long enough, Aimée." René, a dwarf, was always a natty dresser. Tonight he wore a new silk tie and a velvet-collared wool overcoat tailored to his four-foot height.
"Work, René," she said. "I'm still running programs."
He raised his hand. "Routine. We're good till Monday."
She'd never seen him like this. For once work took second place.
"Yet look who came out in the cold," she said, wiping the snow from her collar. "Why so nervous?"
"Her parents."
"Use your famous Friant charm," she said under her breath. She pulled the gift from her coat pocket. "But why rush this, René?"
René reached for the box, a small smile playing on his lips.
"Time to listen to my heart, Aimée."
At the table, Meizi, her black ponytail bobbing, smiled at them. A warm smile that reached her eyes. "René said you'd be joining us. We ordered, I hope you don't mind." Petite, not much taller than René, she wore jeans and a green sweater as she stood ladling abalone soup into small bowls. "Love your coat, Aimée. Meet my parents."
"Bonsoir," Aimée said politely.
The unsmiling Monsieur and Madame Wu stared at her. "My parents speak Wenzhou dialect," said Meizi with an apologetic shrug. "I'll translate."
Aimée grinned, determined to thaw the atmosphere. Her black-stockinged thigh caught on the plastic-covered seat. Under the disapproving stare of Madame Wu, she remembered René's complaints about how Meizi's parents insisted on chaperoning their dates.
René set the present on the table beside the steaming soup. "Happy birthday, Meizi."
Aimée tried not to cringe. Even if it was only earrings, it was too soon. René was nuts, or crazy in love.
Madame Wu turned and spoke to her husband. Aimée heard her sharp intonation, and could imagine what was being said.
But Meizi's face lit up in happiness as she untied the bow and opened the jewelry box. To Aimée's surprise, it was a ring. A pearl ring, luminous and simple. "How thoughtful, René," Meizi gasped. "I lost my other ring at the dojo."
He winked. "I hope the next one will sparkle more."
Meizi blushed.
Madame Wu pulled the reading glasses down from her short, very black hair—dyed, Aimée could see—and shook her head. Round-faced Monsieur Wu, who was much older, averted his gaze.
Were they criticizing René's gift or objecting to the relationship? Perhaps they didn't want their daughter involved with a dwarf? Despite her own reservations, Aimée felt a pang for René.
"Lovely, non?" Aimée said, trying to ease the almost palpable tension.
"Try it on, Meizi," René urged.
Aimée noticed the look René and Meizi shared. Lost in each other. She nudged René. He ignored her.
Madame Wu spoke sharply, and Meizi translated. "My parents say you're too kind, René."
Aimée doubted that. Meizi slipped the ring on her fourth finger. "Parfait." Aimée noticed the bitten nails, the worn calluses on Meizi's fingertips. Meizi set the ring back in the box and passed out the steaming soup bowls. A large serving for René.
Meizi's phone vibrated on the table. She glanced at the number and pushed her chair back. "I'll be right back."
René's hand paused on his soup spoon. "Can't you talk later, Meizi?"
"Won't take a moment," she said. As Meizi went to the door, Aimée noticed her backward glance, her beetled brow, before she stepped outside.
The Wus, not ones for conversation, tucked into the soup. Poor René. Aimée imagined the dinners he'd shared with the humorless Madame and Monsieur Wu. Had she read Meizi, a dutiful daughter, all wrong? A young waitress cleared their bowls, leaving Meizi's, and brought a platter of fragrant roasted duck with shaved scallions. At least five more minutes passed.
"Where's Meizi?" René asked, holding off from serving himself.
"Meizi, oui." Madame Wu nodded, her chopsticks working at morsels of duck.
Aimée wished Meizi hadn't left them in this awkward situation. She shot René a look. He flipped his phone open, hit Meizi's number on his speed dial.
A stooped older woman wearing a stained apron entered the resto. Madame Wu exchanged an uneasy look with Monsieur Wu as the old woman made her way to their table.
"Who's this, another relative?" Aimée asked.
"The busybody who sells tofu and groceries next to her uncle's place." René frowned. "Meizi's not answering her phone."
Suddenly, the old woman shouted in Chinese. Madame Wu dropped her glasses on the table.
The old woman continued, bellowing, frantic. Loud murmurs and the clattering of chopsticks filled the resto. Surprised, Aimée saw diners throw money on their tables, heard chairs screeching back in haste over the linoleum. As if at some mysterious signal, people reached for their coats and fled in a mass exodus.
Madame and Monsieur Wu stood in unison. Without a word they left the table and were out the door of the resto without their coats. Not only rude, but unnerving.
The ring in the red velvet box sat by the teapot, forgotten. Like Meizi's coat on the back of her chair.
"But what's happening?" René said, bewilderment on his face.
Aimée rubbed her sleeve on the fogged-up window to see outside. A red glow reflected in the ice veining the cobble cracks. Firemen, an ambulance, the police?
The young waitress by the door turned down the pop music.
"What's the matter?" Aimée asked her.
"Trouble."
"Trouble as in a robbery?" Jewelry stores abounded in the quartier, which had once been the diamond-cutting district.
"The old lady said murder."
"Murder? But who?"
The waitress shrugged. Her fingers worried a tattered menu. "Behind the luggage shop."
Aimée sat up. "The luggage shop around the corner?"
The waitress nodded.
Meizi's parents' shop. A terrible feeling hit her. Meizi?
René had pulled on his coat and was already halfway to the door. Aimée scooped the jewelry box into her pocket, left a wad of francs on the table, and took off behind him.