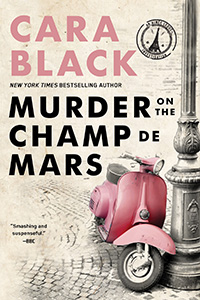 "Aimée's 15th outing is a killer, with all the suspense, all the surprise and all the Parisian flavor you'd expect from Black."
—Kirkus (starred review)
"Delectable… another smashing and suspenseful tale."
—BBC Culture, "Ten Books to Read in March"
Buy it: Bookshop.org | PoisonedPen.com | Amazon.com | BN.com | Apple Books | Kobo.com | Powells.com | Politics & Prose | Book Passage | Soho Press | Audible
Signed copies are available from Bookshop West Portal
Aimée Leduc has her work cut out for her—running her detective agency and fighting off sleep deprivation as she tries to be a good single mother to her new bébé. The last thing she has time for now is to take on a personal investigation for a poor manouche (Gypsy) boy. But he insists his dying mother has an important secret she needs to tell Aimée, something to do with Aimée's father's unsolved murder a decade ago. How can she say no? But the dying woman's secret is even more dangerous than her son realized, and when Aimée arrives at the hospital, the boy's mother has disappeared. She was far too sick to leave on her own—she must have been abducted. What does she know that's so important it's worth killing for? And will Aimée be able to find her before it's too late and the medication keeping her alive runs out?
Excerpt
Paris, April 1999 · Sunday, Late Afternoon
Aimée Leduc clipped the French military GPS tracker to the wheel well, straightened up and gasped, seeing the Peugeot's owner standing in the shadowy Marais courtyard. So much for being très discrète. She'd blown the surveillance—now what? What was wrong with her, making a mistake like this? Why couldn't she shake off her postpartum baby brain?
"Un peu trop élégante for a mechanic. Maybe you're a saboteuse?" said the Vicomte d'Argenson, her target.
Think. She wasn't even officially back from maternity leave until tomorrow, but she'd taken the job because it had seemed like a piece of gâteau. "A relative is trying to ruin me," the comte had told her when he'd hired her. "Find out who."
Now, staring across the seventeenth-century courtyard at the comte's nephew, she arranged her face in a pout. "Just a little tracking device, Vicomte d'Argenson. You're a hard man to catch up with and I want your story." She pulled her alias's card from her clutch bag. "We journalists have to live, you know."
"Paris Match?" he said, fingering her card.
A little shrug sent a ripple of clicking across the metallic beading on her Courrèges-clad shoulders. She hoped this ploy appealed to the portly roué's vanity.
"D'accord, put me on the cover and I'll give you a story. My story."
"Deal." The dank late afternoon air in the courtyard chilled her, and the scent of damp stone clung to the hunting museum's walls. Vivaldi violin melodies wafted from the museum's reception, and the trailing ivy glistened in the light from the sconces.
"But I need the homing device you put under my car, ma belle."
Aimée made a moue of resignation with her Chanel red lips. "I'm counting on the exclusive, Vicomte d'Argenson."
By the time she'd recovered the device and put it in his waiting palm, he'd checked the other tires.
"Damn paparazzi," he said, grinding the tracker under his heel on the cobbles.
Good thing she'd put a second one inside his briefcase on the backseat. She activated the second tracker, smothering the click with a cough.
"My number's at the bottom. A bientôt," she said, shooting him a complicit smile, and air-kissed somewhere in the vicinity of his cheek.
And with that she hurried through the tall doors, slipping the control, which was no bigger than a lighter, into the waiting hand of Maxence, Leduc Detective's intern hacker, who was posing as a valet.