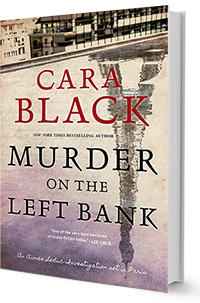 "Gratifyingly full of local Parisian color."
—Kirkus
"Fast-paced… Once again Black combines a twist-filled mystery with a convincing look at the culture and politics of the City of Lights."
—Publishers Weekly
Buy it: IndieBound.com | PoisonedPen.com | Amazon.com | BN.com | iBooks | Kobo.com | Politics & Prose | Book Passage
A dying man drags his oxygen machine into the office of Éric Besson, a lawyer in Paris's 13th arrondissement. The old man, an accountant, is carrying a dilapidated notebook full of meticulous investment records. For decades, he has been helping a cadre of dirty cops launder stolen money. The notebook contains his full confession—he's waited 50 years to make it, and now it can't wait another day. He is adamant that Besson get the notebook into the hands of La Proc, Paris's chief prosecuting attorney, so the corruption can finally be brought to light. But en route to La Proc, Besson's courier—his assistant and nephew—is murdered, and the notebook disappears.
Grief-stricken Éric Besson tries to hire private investigator Aimée Leduc to find the notebook, but she is reluctant to get involved. Her father was a cop and was murdered by the same dirty syndicate the notebook implicates. She's not sure which she's more afraid of, the dangerous men who would kill for the notebook or the idea that her father's name might be among the dirty cops listed within it. Ultimately that's the reason she must take the case, which leads her across the Left Bank, from the Cambodian enclave of Khmer Rouge refugees to the ancient royal tapestry factories to the modern art galleries.
Excerpt
Paris – Early September 1999 – Friday
Pale afternoon light filtered into Éric Besson's wood-paneled office as Monsieur Solomon untied the twine that bound together a bulging old notebook.
"We were prisoners together in a POW camp," Solomon said, wheezing, as the lawyer took hurried notes. "Stalag III-C, east of Berlin. Pierre saved my life." Another wheeze. "You understand why I did what I did."
Besson capped his pen. The effort of talking had cost Monsieur Solomon, who was in his eighties, and he reached for his oxygen mask. After several labored inhales, he grabbed Besson's arm with a crab-claw grip. "But Pierre's gone now," Solomon said. "It's all written in there: my confession, the amounts, dates. Years of entries."
Besson reached across his desk to take the notebook from the old man's shaking hands. He opened the well-worn volume to see columns of names and numbers, an accountant's tiny, perfect handwriting. He turned page after page, his eyes catching on names and franc amounts as it gradually dawned on him what he must be looking at.
Monsieur Solomon's rheumy brown eyes bored into the lawyer. "I'm dying. Get this to the right person."
Besson reached for his briefcase. "Tomorrow, first thing, I promise."
Paris – Late September 1999 – Monday Morning
Humidity hovered in the air, waiting for the drop in barometric pressure to drag Paris into autumn. A few leaves had turned and soon would carpet the cobbles yellow brown, red, and orange. It wouldn't be long before Aimée Leduc would have to break out her wool scarves. It was her first autumn as a mother, and for some reason, the changing temperature filled her with a sense of foreboding.
In Leduc Detective's office, Chloé squealed on the changing table while Aimée replaced her leaking diaper. Aimée had a meeting and wished her nanny would hurry up. She loved having her ten-month-old with her at the office in the mornings, but business was business; Aimée still had to earn their baguette and butter it, too.
Just then the frosted glass door buzzed open. Babette entered, accompanied by a wave of stale air from the landing. "Désolee, got held up by the Métro strike."
Another Métro strike. Tomorrow it would be nurses or bus drivers. September always brought the usual disruptions.
Behind Babette stood a tall man wearing a suit and dragging a rolling suitcase.
"This monsieur said he's here for a consultation," said Babette.
Consultation? No way—Aimée was on her way out the door to her emergency client meeting, and she still had an overdue proposal open on her laptop.