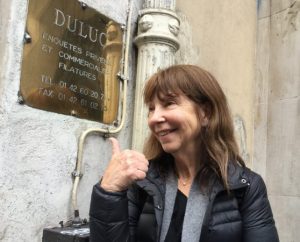 Join Cara and other Cara Black mystery-lovers for an exclusive week in Paris. You'll spend time with Cara exploring some of the most memorable scenes associated with the cases private investigator Aimée Leduc has solved in several books. And you'll also have time to spend in some of the small gems of Paris – the lesser-known museums, the spectacular parks, the off-the-beaten-track cafés, hidden passages that are home to specialty boutiques, antiquarian bookstores and other treasures.
Donna Morris, of Best Friend in Paris, has lived in Paris for more than 12 years and will be your Trip Leader. Whether you've been to Paris before or not, she'll help you get to know the city a little more like a local. She and Cara have collaborated on several trips to Paris and both have a keen curiosity for all things Paris so the trip promises to hold fun surprises!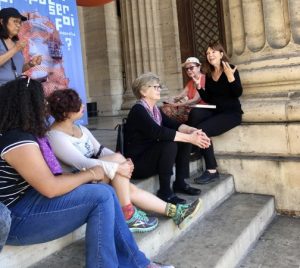 Our boutique hotel, the Relais Monceau, is located in the Paris neighborhood described in Murder in Clichy, in the 8th arrondissement. We will meet in the hotel salon each evening with Cara to sample French wines and discuss the days' events, with a bit of book talk thrown into the mix. For dinner, we'll break into small groups, depending on your desires; Donna will help you with reservations. No one will ever dine alone—unless he or she prefers solitude!
To learn more about the trip, and to register, please visit https://www.bestfriendinparis.com/a-week-in-paris-with-cara-black-2019/