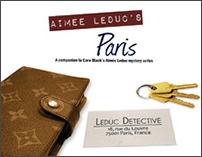 For a printable list you can take with you to the bookstore or library, download this PDF: Aimée Leduc Series on One Page
Download the FREE ebook Aimée Leduc Companion, which will bring you up to speed on previous books in the series. Tour the arrondissements of Paris with interactive maps that show places featured in the series, as well as Cara's favorite cafes, bistros, and shops in Paris, and various other nooks and crannies of the City of Lights. Amazon | BN.com | iTunes | Scribd
Check out this cool Paris map showing where each of Cara's books is set. Click on the map to see a larger version. (Map created by Diandra Miller)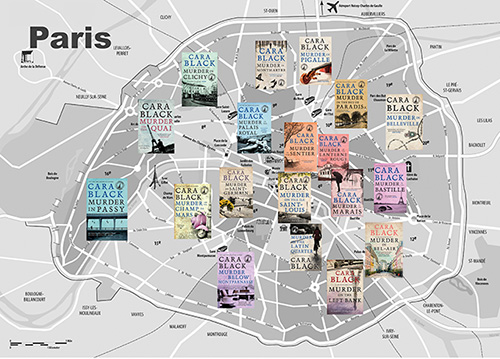 Aimée Leduc Series In Order (from newest to oldest)
Murder in Bel-Air (June 4, 2019)
Aimée Leduc is about to go onstage to give the keynote address at a tech conference that is sure to secure Leduc Detective some much-needed business contracts when she gets an emergency phone call from her daughter's playgroup: Aimée's own mother, who was supposed to pick up Chloé, never showed. Abandoning her hard-won speaking gig, Aimée rushes to get Chloé, annoyed that, yet again, her mother has let her down.
But as Aimée and Chloé are leaving the playground, Aimée witnesses the body of a homeless woman being wheeled away from the neighboring convent, where nuns run a soup kitchen. The last person seen talking to the dead woman talking to was Aimée's mother—who has vanished. Trying to figure out what happened to Sydney Leduc, Aimee tracks down the dead woman's possessions, which include a huge amount of cash. What did Sydney stumble into? Is she in trouble?
Buy it: IndieBound.com | PoisonedPen.com | Amazon.com | BN.com | iBooks | Kobo.com | Politics & Prose | Book Passage | Books-A-Million
Murder on the Left Bank (2018)
A dying man drags his oxygen machine into the office of Éric Besson, a lawyer in Paris's 13th arrondissement. The old man, an accountant, is carrying a dilapidated notebook full of meticulous investment records. For decades, he has been helping a cadre of dirty cops launder stolen money. The notebook contains his full confession—he's waited 50 years to make it, and now it can't wait another day. He is adamant that Besson get the notebook into the hands of La Proc, Paris's chief prosecuting attorney, so the corruption can finally be brought to light. But en route to La Proc, Besson's courier—his assistant and nephew—is murdered, and the notebook disappears. Grief-stricken Éric Besson tries to hire private investigator Aimée Leduc to find the notebook, but she is reluctant to get involved. Her father was a cop and was murdered by the same dirty syndicate the notebook implicates. She's not sure which she's more afraid of, the dangerous men who would kill for the notebook or the idea that her father's name might be among the dirty cops listed within it. Ultimately that's the reason she must take the case, which leads her across the Left Bank, from the Cambodian enclave of Khmer Rouge refugees to the ancient royal tapestry factories to the modern art galleries.
Buy it: IndieBound.com | PoisonedPen.com | Amazon.com | BN.com | iBooks | Kobo.com | Politics & Prose | Book Passage

Murder in Saint-Germain (2017)
Private investigator Aimée Leduc is walking through Saint-Germain when she is accosted by Suzanne Lesage, a Brigade Criminelle agent on an elite counterterrorism squad. Suzanne has just returned from the former Yugoslavia, where she was hunting down dangerous war criminals for the Hague. Back in Paris, Suzanne is convinced she's being stalked by a ghost—a Serbian warlord she thought she'd killed. She's suffering from PTSD and her boss thinks she's imagining things. She begs Aimée to investigate—is it possible Mirko Vladić could be alive and in Paris with a blood vendetta? Aimée is already working on a huge case, plus she's got an eight-month-old baby to take care of. But she can't say no to Suzanne, whom she owes a big favor. Aimée chases the few leads, and all evidence confirms Mirko Vladić is dead. It seems that Suzanne is in fact paranoid, perhaps losing her mind—until Suzanne's team begins to turn up dead in a series of strange, tragic accidents. Are these just coincidences? Or are things not what they seem?
Buy it: IndieBound.com | PoisonedPen.com | Amazon.com | BN.com | iBooks | Kobo.com | Powells.com | Politics & Prose | Book Passage
Murder on the Quai (2016)
November 1989: Aimée Leduc is in her first year of college at Paris's preeminent medical school. She lives in a 17th-century apartment that overlooks the Seine with her father, who runs the family detective agency. But the week the Berlin Wall crumbles, so does Aimée's life as she knows it. First, someone has sabotaged her lab work, putting her at risk of failing out of the program. Then, she finds out her aristo boyfriend is planning to get engaged to another woman. And finally, Aimée's father takes off to Berlin on a mysterious errand. He asks Aimée to help out at the detective agency while he's gone—as if she doesn't already have enough to do. But the case Aimée finds herself investigating—a murder linked to a transport truck of Nazi gold that disappeared in the French countryside during the height of World War II—has gotten under her skin. Her heart may not lie in medicine after all—maybe it's time to think harder about the family business.
Buy it: IndieBound.com | PoisonedPen.com | Amazon.com | BN.com | iBooks | Kobo.com | Powells.com | Politics & Prose | Book Passage
Murder on the Champ de Mars (2015)
Aimée Leduc has her work cut out for her—running her detective agency and fighting off sleep deprivation as she tries to be a good single mother to her new bébé. The last thing she has time for now is to take on a personal investigation for a poor manouche (Gypsy) boy. But he insists his dying mother has an important secret she needs to tell Aimée, something to do with Aimée's father's unsolved murder a decade ago. How can she say no? But the dying woman's secret is even more dangerous than her son realized, and when Aimée arrives at the hospital, the boy's mother has disappeared. She was far too sick to leave on her own—she must have been abducted. What does she know that's so important it's worth killing for? And will Aimée be able to find her before it's too late and the medication keeping her alive runs out?
Buy it: IndieBound.com | PoisonedPen.com | Amazon.com | BN.com | iBooks | Kobo.com | Powells.com | Politics & Prose | Book Passage | Soho Press
Murder In Pigalle (2014)
A serial rapist has been terrorizing Paris's Pigalle neighborhood, following teenage girls home from junior high school and attacking them in their own houses. It is sad and frightening but has nothing to do with Aimée—until Zazie, the 14-year-old daughter of the proprietor of Aimée's favorite café, disappears. The police aren't mobilizing quickly enough and when Zazie's desperate parents approach Aimée for help, she knows she couldn't say no even if she wanted to. In the frantic race against time that ensues, Aimée discovers a terrifying secret neighborhood history that will leave lives in the whole quartier upended. Inspired by a true crime story of a serial killer who wreaked havoc on Paris in the summer of 1998, Cara Black's fourteenth Aimée Leduc mystery is a thrilling follow-up to her 2013 New York Times bestseller, Murder Below Montparnasse.
Buy it: IndieBound.com | PoisonedPen.com | Amazon.com | BN.com | iBooks | Kobo.com | Powells.com | Politics & Prose | Book Passage | Soho Press
Murder Below Montparnasse (2013)
When Aimée's long-term partner and best friend Rene leaves their detective agency for a new job in Silicon Valley, Aimée knows she can handle the extra workload. At least, that what she tells herself. Repeatedly. But all bets are off when Yuri Volodya, a mysterious old Russian man, hires Aimée to protect a painting. By the time she gets to his Montparnasse atelier, the precious painting has already been stolen, leaving Aimée smelling a rat. The next day, Yuri is found tortured to death in his kitchen. Now some very dangerous people are threatening Aimée and her coworkers, and witnesses are dropping like flies. Aimée has to find the painting, stop her attackers, and figure out what her long-missing mother, who is on Interpol's most wanted list, has to do with all this—fingers crossed she wasn't Yuri's murderer, despite clues pointing in that direction.
Buy it: IndieBound.com | PoisonedPen.com | Amazon.com | BN.com | Powells.com | Politics & Prose | Book Passage | Soho Press
Murder at the Lanterne Rouge (2012)
Aimée Leduc is happy her long-time business partner René has found a girlfriend. Really, she is. It's not her fault if she can't suppress her doubts about the relationship; René is moving way too fast, and Aimée's instincts tell her Meizi, this supposed love of René's life, isn't trustworthy. And her misgivings may not be far off the mark: Meizi disappears during a Chinatown dinner to take a phone call and never comes back to the restaurant. Minutes later, the body of a young man, a science prodigy and volunteer at the nearby Musée, is found shrink-wrapped in an alleyway—with Meizi's photo in his wallet. A missing young woman, an illegal immigrant raid in progress, botched affairs of the heart, dirty policemen, the French secret service, cutting-edge science secrets and a murderer on the loose—what has she gotten herself into? And can she get herself—and her friends—back out of it all alive?
Buy it: IndieBound.com | PoisonedPen.com | Amazon.com | BN.com | Powells.com | Politics & Prose | Book Passage | Soho Press
 Murder in Passy (2011)
The village-like neighborhood of Passy, home to many of Paris's wealthiest residents, is the last place one would expect a murder. But when Aimée Leduc's godfather, Morbier, a police commissaire, asks her to check on his girlfriend at her home there, that's exactly what Aimée finds. Xavierre, a haut bourgeois matron of Basque origin, is strangled in her garden while Aimée waits inside. Circumstantial evidence makes Morbier the prime suspect, and to vindicate him, Aimée must identify the real killer. Her investigation leads her to police corruption; the radical Basque terrorist group, ETA; and a kidnapped Spanish princess.
Buy it: IndieBound.com | PoisonedPen.com | Amazon.com | BN.com | Powells.com | Politics & Prose | Book Passage | Soho Press
Murder in the Palais Royale (2010)
Just as Aimée is about to leave for New York City to follow up on a lead about a possible younger brother, her partner in Leduc Detective, René Friant, is wounded by a near-fatal gun shot. Eyewitnesses identify Aimée as the culprit. The police have pegged her as the guilty party. Aimée is distraught over René's condition and horrified to be under suspicion. At the same time, a large, mysterious sum appears in their firm's bank account, and the tax authorities descend upon Aimée. She has no idea who would have sent this money. It seems that someone is impersonating Aimée, someone who wants revenge. But for what? Two murders ensue. How do they relate to the youth whom Aimée's testimony sent to jail in the very first Aimée Leduc investigation, Murder in the Marais?
Buy it: IndieBound.com | PoisonedPen.com | Amazon.com | BN.com | Powells.com | Politics & Prose | Book Passage | Soho Press
Murder in the Latin Quarter (2009)
A Haitian woman arrives at the office of Leduc Detective and announces that she is Aimée's sister, her father's illegitimate daughter. Aimée is thrilled. A virtual orphan since her mother's disappearance and her father's death, she has always wanted a sister. Her partner, René, is wary of this stranger, but Aimée embraces her and soon finds herself involved in murky Haitian politics leading to murder. Aimee finds herself caught up in a murderous paper chase, one where even her godfather, Commissaire Morbier, has doubts about her innocence. The setting is the Latin Quarter on the Left Bank of the Seine, in the old university district of Paris.
Buy it: IndieBound.com | PoisonedPen.com | Amazon.com | BN.com | Powells.com | Politics & Prose | Book Passage | Soho Press
Murder in the Rue de Paradis (2008)
It's 1995, a time of turmoil around the world and especially in Paris. Aimée is thrilled when her one-time lover, Yves, an investigative journalist, returns from his assignment in Egypt and proposes marriage. But after a single night of bliss, his body is discovered in a Paris doorway. His throat has been slit, with a distinctive curling flourish at one end of the incision. The police record the incident as a robbery gone wrong, but Aimée is convinced he was the victim of a political hit and is determined to avenge him. The trail leads to a sleeper jihadist and embroils her in Turkish and Kurdish politics, as well as the dangerous world of journalists who expose corruption.
Buy it: IndieBound.com | PoisonedPen.com | Amazon.com | BN.com | Powells.com | Politics & Prose | Book Passage | Soho Press
Murder on the Ile Saint-Louis (2007)
A distraught, late-night anonymous phone call distracts Aimée from her deadline and sends her to the courtyard of her Ile Saint-Louis building, where she finds an infant girl. After the caller never shows up for her baby (whom Aimée decides to care for), Aimée wonders if the woman may have become an "Yvette," a Jane Doe dragged from the Seine. Her partner, René, urges her to turn the baby over to the authorities, but for Aimée this is too close to her own abandonment by her mother. Meanwhile, a group of environmental protestors is trying to stop the government from entering into a contract with an oil company notorious for pollution. As Aimée attempts to identify the baby's mother, two murders and an abortive bombing involving the protestors lead her—and the infant—into danger.
Buy it: IndieBound.com | PoisonedPen.com | Amazon.com | BN.com | Powells.com | Politics & Prose | Book Passage | Soho Press
Murder in Montmartre (2006)
Aimée's childhood friend, Laure, is a policewoman. Her partner, Jacques, has set up a meeting in Montmartre with an informer. When Laure reluctantly goes along as backup, Jacques is lured to an icy rooftop, where he is shot to death. Laure's gun has been fired, gunpowder residue is found on her hands, and she is charged with her partner's murder. The police close ranks against the alleged cop killer. Aimée is determined to clear Laure. In doing so, she encounters separatist terrorists, Montmartre prostitutes, a surrealist painter's stepdaughter, a crooked Corsican bar owner, and learns of "Big Ears"—the French "ear in the sky" that records telephonic and electronic communications—which the Security Services monitor.
Buy it: IndieBound.com | PoisonedPen.com | Amazon.com | BN.com | Powells.com | Politics & Prose | Book Passage | Soho Press
Murder in Clichy (2005)
Aimée has been introduced to the Cao Dai temple in Paris by her partner René. He urges her to learn to meditate: she could use a more healthful approach to life. The Vietnamese nun Linh has been helping Aimée to attain her goal, so when she asks Aimée for a favor—to go to the Clichy quartier to exchange an envelope for a package—René prompts Aimée to agree. But the intended recipient, Thadée Baret, is shot and dies in Aimée's arms before the transaction can be completed, leaving Aimée with a wounded arm, a check for 50,000 francs, and a trove of ancient jade artifacts. Whoever killed Baret wants the jade. The RG—the French secret service—a group of veterans of the war in Indochina and some wealthy ex-colonials and international corporations seeking oil rights are all implicated. And the nun, Linh, has disappeared.
Buy it: IndieBound.com | PoisonedPen.com | Amazon.com | BN.com | Powells.com | Politics & Prose | Book Passage | Soho Press
Murder in the Bastille (2004)
Aimée Leduc is all dressed up in her new Chinese silk jacket, supposedly an "exclusive," for dinner with a difficult client at an elegant restaurant in the Bastille district. She is chagrined to see that the woman seated at the very next table is wearing an identical jacket. When the woman leaves her cell phone on the table, Aimée follows her to return it and is attacked in the shadowy Passage Boule Blanche. When she regains consciousness, Aimée finds that she is blind. Nevertheless, she is told she is lucky; the woman she was following was found in the next passage, murdered. Aimée is determined to identify her attacker. Was he actually a serial killer targeting showy blondes as the police insist? Was he really after the other woman? Or was Aimée his intended victim?
Buy it: IndieBound.com | PoisonedPen.com | Amazon.com | BN.com | Powells.com | Politics & Prose | Book Passage | Soho Press
Murder in the Sentier (2003)
Once filled with fashionable mansions, the historic Sentier district of Paris has nowadays fallen on hard times, housing the rag trade alongside sleazy nightclubs. Aimée Leduc finds herself drawn to the area when a woman, newly released from prison, tells her she knew Aimée's long-lost mother. Aimée is shocked to hear that her mother was a member of the notorious 1970s Red Terrorist gang, but before she can discover more, her contact is murdered. Desperate to find her mother, Aimée becomes embroiled with resurgent terrorists, no longer motivated by political ideals but ruthlessly seeking hidden loot—which also seems to have disappeared without a trace.
Buy it: IndieBound.com | PoisonedPen.com | Amazon.com | BN.com | Powells.com | Politics & Prose | Book Passage | Soho Press
Murder in Belleville (2000)
Tensions run high in the working-class neighborhood of Belleville, known for its high concentration of Arab immigrants, when a hunger strike to protest against strict immigration laws escalates. Aimée is trying to help her old friend Anaïs, the wife of the interior minister, who had intended to confront Sylvie, her husband's mistress. When a car bomb fueled by Algerian plastique takes Sylvie's life, Anaïs begs Aimée to unravel the tangled threads that led to her death. But Aimée herself barely escapes with her life as she pursues terrorists among the Algerian nationalists and Islamic fundamentalists who have formed an underground North African network in Paris.
Buy it: IndieBound.com | PoisonedPen.com | Amazon.com | BN.com | Powells.com | Politics & Prose | Book Passage | Soho Press
Murder in the Marais (1999)
Aimée Leduc has always sworn she would stick to tech investigation—no criminal cases for her. Especially since her father, the late police detective, was killed in the line of duty. But when an old Jewish man approaches Aimée with a top-secret decoding job on behalf of a woman in his synagogue, Aimée unwittingly takes on more than she was expecting. When she goes to drop off her findings at her client's house in the Marais, Paris's historic Jewish quarter, she finds the old woman strangled, a swastika carved on her forehead. With the help of her partner, René, Aimée sets out to solve this horrendous crime, but finds herself in an increasingly dangerous web of ancient secrets and buried war crimes.
Buy it: IndieBound.com | PoisonedPen.com | Amazon.com | BN.com | Powells.com | Politics & Prose | Book Passage | Soho Press