Win a FREE Killer Trip to Paris with Cara!
Read a story about the contest from the Washington Post, and visit ParisIsForMurder.com to find out how you could join Cara in Paris this fall!
The ebook version of the first book in the Aimée Leduc series, Murder in the Marais, is on sale this month for only $1.39 at Amazon and $1.99 at Barnes & Noble and Kobo!
Listen to an interview with Cara from Libby Hellmann's Second Sunday Crime show.
Available Now: Murder on the Champ de Mars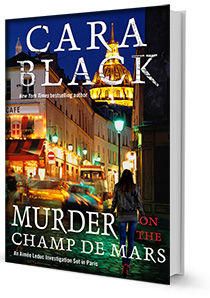 "Aimée's 15th outing is a killer, with all the suspense, all the surprise and all the Parisian flavor you'd expect from Black."
—Kirkus, STARRED REVIEW
"Delectable… another smashing and suspenseful tale."
—BBC Culture, "Ten Books to Read in March"
"Absorbing."
—Publishers Weekly
"Black once again delivers what her readers crave: high-speed Parisian peregrinations, chic suspense, a touch of humor, and the indomitable Aimée, as unstoppable with a baby strapped to her hip as she was with one growing in her belly."
—Booklist
"Sassy, openhearted Aimée Leduc is back for a 15th outing that takes readers to Paris's elegant, old-gold seventh arrondissement. It's not all luxe, though; even as ­Aimée balances work-life responsibilities as a new mom with a detective agency to run, she helps a poor Gypsy boy whose dangerously ill mother has a secret to share."
—Library Journal
Paris, April 1999: Aimée Leduc has her work cut out for her—running her detective agency and fighting off sleep deprivation as she tries to be a good single mother to her new bébé. The last thing she has time for now is to take on a personal investigation for a poor manouche (Gypsy) boy. But he insists his dying mother has an important secret she needs to tell Aimée, something to do with Aimée's father's unsolved murder a decade ago. How can she say no?
The dying woman's secret is even more dangerous than her son realized. When Aimée arrives at the hospital, the boy's mother has disappeared. She was far too sick to leave on her own—she must have been abducted. What does she know that's so important it's worth killing for? And will Aimée be able to find her before it's too late and the medication keeping her alive runs out?
Newsflash!
A second Paris Trip with Cara sponsored by Politics & Prose Bookstore has just been added! Join Cara on Nov. 1-7, 2015, to explore some of the most memorable scenes associated with the cases of Aimée Leduc, and get to know the city in a more intimate way. Learn more here.
Murder In Pigalle has been named a 2014 Favorite at The Rap Sheet and a Notable Bay Area Book by the San Francisco Chronicle