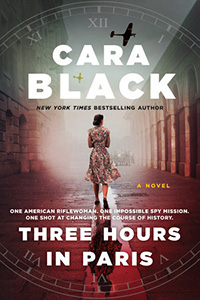 In June of 1940, when Paris fell to the Nazis, Hitler spent a total of three hours in the City of Light—abruptly leaving, never to return. To this day, no one knows why.
The New York Times bestselling author of the Aimée Leduc investigations reimagines history in her masterful spy thriller, Three Hours in Paris.
Pre-order it: IndieBound.com | PoisonedPen.com | Amazon.com | BN.com | Apple Books | Books-A-Million | Kobo.com | Politics & Prose | Book Passage | Soho Press
"Black constructs a surprise-filled plot, fueled by breathless pacing, Alan Furst-like atmosphere, and a textured look at Resistance fighters in Paris… Black stretches her wings here, soaring to new heights."
—Booklist (starred review)
"Riveting… Black keeps the suspense high throughout. Fans of The Day of the Jackal won't want to miss this heart-stopping thriller."
—Publishers Weekly
Available Now: Murder In Bel-Air

Buy it: IndieBound.com | PoisonedPen.com | Amazon.com | BN.com | iBooks | Kobo.com | Politics & Prose | Book Passage | Soho Press
One of CrimeReads' Notable Traditional Mysteries of 2019!
A San Francisco Chronicle / Northern California Independent Booksellers Association Top 10 Best Seller!

"Aimée Leduc's nineteenth adventure is one of her best… this is a deeply satisfying and entertaining novel."
—Booklist (Starred Review)
"Gripping… Black takes the reader on a whirlwind tour of Paris, both the well- and less-well-known sections, and Aimée never leaves home without oozing style. Longtime fans and newcomers alike will have fun."
—Publishers Weekly
One of the BBC's Ten Books to Read in June
Cara Black's riveting 19th installment in her New York Times bestselling Parisian detective series entangles private investigator Aimée Leduc in a dangerous web of international spycraft, post-colonial Franco-African politics, and neighborhood secrets in Paris's 12th arrondissement.
Parisian private investigator Aimée Leduc is about to go onstage to deliver the keynote address at a tech conference that is sure to secure Leduc Detective some much-needed business contracts when she gets an emergency phone call from her daughter's playgroup: Aimée's own mother, who was supposed to pick Chloe up, never showed. Abandoning her hard-won speaking gig, Aimée rushes to get Chloe, annoyed that her mother has let her down yet again.
But as Aimée and Chloe are leaving the playground, Aimée witnesses the body of a homeless woman being wheeled away from the neighboring convent, where nuns run a soup kitchen. The last person anyone saw the dead woman talking to was Aimée's mother, who has vanished. Trying to figure out what happened to Sydney Leduc, Aimée tracks down the dead woman's possessions, which include a huge amount of cash. What did Sydney stumble into? Is she in trouble?
Read about the real agency that inspired the Aimée Leduc series! Investigating One of the Oldest Private Detective Agencies in Paris