Now Available: Murder on the Quai
A San Francisco Chronicle and Los Angeles Times best-selling book!
Mystery Scene: Paris is for Authors: The City of Lights with Cara Black and Susan Elia MacNeal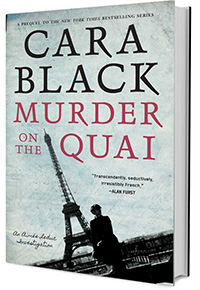 The New York Times reviews Murder on the Quai! "Who wouldn't love to catch a glimpse of a favorite sleuth as a blundering amateur? Cara Black lets us do just that in Murder on the Quai, which reveals how Aimée Leduc, her fashionable Parisian private investigator, joined the business founded by her father and grandfather… The case is engrossing, complete with Vichy flashbacks, but the most fun are the scenes where Aimée meets her future partners and acquires Miles Davis, her beloved bichon frisé."
The world knows Aimée Leduc—heroine of 15 mysteries in Cara Black's New York Times bestselling series—as a très chic, no-nonsense private investigator in Paris. Now Black takes us back in time to reveal how Aimée first became a detective…
November 1989: Aimée Leduc is in her first year of college at Paris's preeminent medical school. She lives in a 17th-century apartment that overlooks the Seine with her father, who runs the family detective agency.
But the week the Berlin Wall crumbles, so does Aimée's life as she knows it. First, someone has sabotaged her lab work, putting her at risk of failing out of the program. Then, she finds out her aristo boyfriend is planning to get engaged to another woman. And finally, Aimée's father takes off to Berlin on a mysterious errand. He asks Aimée to help out at the detective agency while he's gone—as if she doesn't already have enough to do. But the case Aimée finds herself investigating—a murder linked to a transport truck of Nazi gold that disappeared in the French countryside during the height of World War II—has gotten under her skin. Her heart may not lie in medicine after all—maybe it's time to think harder about the family business.
---
Cara's 50 Book Club Challenge! Find out here how Cara can visit your book club (in person or via Skype/FaceTime).