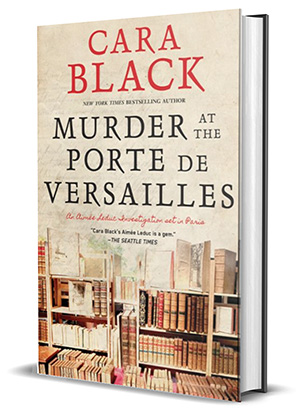 November, 2001: in the wake of 9/11, Paris is living in a state of fear, with constant bomb alerts and heightened ethnic tension. For Aimée Leduc, November is bittersweet: the anniversary of her father's death and her daughter's third birthday fall on the same day. A gathering for family and friends is disrupted when a bomb goes off at the police laboratory—and Boris Viard, the partner of Aimée's friend Michou, is found unconscious at the scene of the crime with traces of explosive under his fingernails.
Aimée doesn't believe Boris set the bomb. In an effort to prove him not guilty, she battles the police and his own lab colleagues, collecting conflicting eyewitness reports. When a member of the French secret service drafts Aimée to help investigate possible links to an Iranian Revolutionary guard and fugitive radicals who bombed Interpol in the 1980s, Aimée uncovers ties to a cold case of her father's. As Aimée scours the streets of Téhéran-sur-Seine trying to learn the truth, she has to ask herself if she should succumb to pressure from Chloe's biological father and move them out to his farm in Brittany.
Buy it: Bookshop.org | IndieBound.com | Amazon.com | BN.com | Apple Books | Kobo.com | Apple Books | Book Passage | Books-A-Million | Audible
Signed copies are available from Bookshop West Portal
"Riveting… Rich with detail about life in Paris… Black shows no signs of losing steam."
—Publishers Weekly
"Black delivers again with a combination of political intrigue and tight detective thrills."
—Kirkus
"A fast-paced, atmospheric mystery."
—Booklist
---
Now in paperback: Three Hours in Paris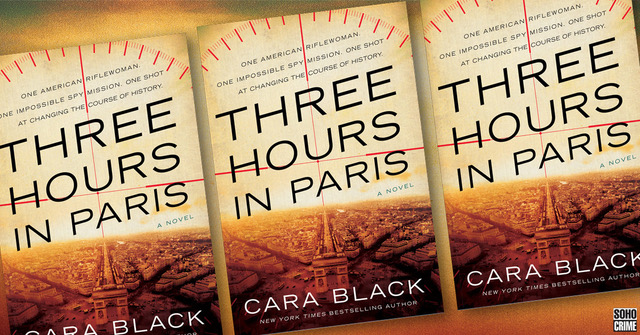 In June of 1940, when Paris fell to the Nazis, Hitler spent a total of three hours in the City of Light—abruptly leaving, never to return. To this day, no one knows why.
The New York Times bestselling author of the Aimée Leduc investigations reimagines history in her masterful spy thriller, Three Hours in Paris.
Read more about Three Hours in Paris
Buy it: Bookshop.org | PoisonedPen.com | Amazon.com | BN.com | Apple Books | Books-A-Million | Kobo.com | Politics & Prose | Book Passage | Soho Press | Audible
Signed copies are available from Bookshop West Portal
One of the Washington Post's Best Mysteries and Thrillers of 2020 | One of the Seattle Times' Best Crime Novels of 2020 | Nominated for the Hammett Prize for Literary Excellence in Crime Writing | Barnes & Noble's Mystery & Thriller Pick for April 2021
The audiobook is the winner of an AudioFile Earphones Award! "Narrator Elisabeth Rodgers rises to the challenge of performing with American, English, Scottish, French, and German accents… An intense listen from the first scene to the last."
"Black constructs a surprise-filled plot, fueled by breathless pacing, Alan Furst-like atmosphere, and a textured look at Resistance fighters in Paris… Black stretches her wings here, soaring to new heights."
—Booklist (starred review)
"Riveting… Black keeps the suspense high throughout. Fans of The Day of the Jackal won't want to miss this heart-stopping thriller."
—Publishers Weekly
"Black excels at setting vivid scenes, creating lively characters and maintaining pulse-elevating suspense. Three Hours in Paris, with its timetable structure and its hunt for a covert operative, recalls such comparable works as Frederick Forsyth's The Day of the Jackal and Ken Follett's Eye of the Needle."
—Tom Nolan, Wall Street Journal
"The premise is that an American female sharpshooter is parachuted into France to assassinate Adolf Hitler. Of course, she fails. Using wits alone, she must evade the Gestapo and make it back across the English Channel. Chances of success? Slim to none. Chances that you'll be able to put Black's thriller down once you've picked it up? Also slim to none… This is one of those espionage thrillers for which the word 'taut' was invented."
—Maureen Corrigan, Washington Post
"Beyond Black's encyclopedic knowledge of Paris, her deft interweaving of WWII history and spycraft with a relatable female protagonist puts Three Hours in Paris on par with other top thrillers about botched missions followed by harrowing escapes—such masterworks as Frederick Forsythe's The Day of the Jackal, Jack Higgins' The Eagle Has Landed and Tom Clancy's Patriot Games."
—Paula Woods, Los Angeles Times
"As the author of 19 murder mysteries set in Paris, Black knows the city's hidden squares and winding alleys. The wartime city and its grim undercurrent of fear are evocatively portrayed… Three Hours in Paris is reminiscent of Alan Furst at his best."
—Financial Times
"Both a stunning and brilliant work of imagination, and a tour de force of rigorous research… fraught with tension and suspense… this is an extremely engaging story; that there is an emotional depth to the large cast of characters that is often quite moving; and that with this novel Black has taken an ambitious, and a risky step forward in her career as a writer—and a very successful one."
—Bonjour Paris